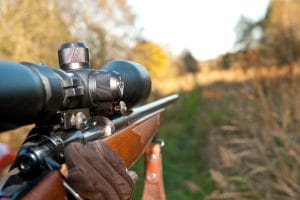 The Fin's rifle range is one of the favorite places at the club, offering shooters 50, 100 and 200 yard target sites. There is cover at the shooting line for protection during inclement weather. Target sheds are available for regular practice and special matches. Anyone wishing to sight in their rifle, muzzle loaders, shotgun, or handguns larger than 44 mag must use the 50 yd range at the rifle range, NOT the pistol range. All shooters must observe all rules for shooting at that ranges.
NO RIFLES, MUZZLE LOADERS, SHOTGUNS OR A HANDGUN LARGER THAN A 44 MAG ARE ALLOWED AT THE PISTOL RANGE. YOU MUST USE THE RIFLE RANGE. The ONLY exception is rim fired rifles. Any questions, please contact Pete Mathewson
The Rifle Range is open from 9:00 a.m. to sunset. Rules are posted at the range. There are NRA approved rifle matches, starting in spring and running throughout the summer months.